TRADITIONAL JAPANESE CEREMONIAL DRESS PHOTOGRAPHY
Let us create unique and lasting memories for your family while living on Okinawa, Japan
Hi,
Let us create unique and lasting memories for your family while living on Okinawa, Japan. Our photo studio specializes in professional photos for families, individuals and special occasions. We are located outside Kadena Gate 2 on BC Street
Ladies and Daughters:
Let our professional hair and makeup stylists treat you like a Japanese Princess. Relaxation – Enjoy our personal full service hair and makeup services. Next, let our professional designers help you dress in a real Japanese Kimono. We offer an extensive collection of designer kimonos and traditional accessories.
Husbands and Sons:
Let us show you how to wear a traditional Japanese Men's Kimono. (Swords Included!). We will also show the Men traditional Samaria stances with sword for that unique traditional look.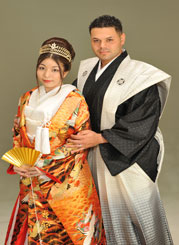 Family Photo Package
The package includes:
2 of 5×7 Photos, 1 of 8×10 Photo, 5 Wallet Size Photos, 5 Postcard Size Photos
All for: ¥12,500!
(Now Available on Saturdays too!)
Costume & Make up fee : ¥1,000 – ¥4,000 per person
*All prices plus 10% consumption tax
Tel : 098-939-2880
Open from 10:00am to 7:00pm (Closed on Monday & Tuesday)
Credit Cards OK
English Speaking Staff
Please let us know 48 hours in advance if you need to cancel
CHECK YOUR PHOTOS
You can check your photos online a few days after they're taken. We'll email you the link and password as soon as they're ready. You can login and order a download of all the photos to keep them digitally forever!